It is with a sad heavy heart that I report the passing of the Cholla Bay Sleigh Ride to a new owner. I'd been messaging this guy that had a center console for sale since the start of the pandemic. Every time the guy would respond with yes it is available. I would then ask can I come look at it? Every time, yes. Then the conversation would just go nowhere. One of these guys that has something to sell but seemingly doesn't want to sell it? You know, the type of assholes you message and they get back to you 36 days later... Like yooooo my man, what am I missing here??? I have money and you have something for sale. Why is it this hard??? Anyways, I was persistent. Some times I went months without messaging the guy. Ad was taken down a couple of months ago so I finally let go of the dream. Then, with no reasoning the ad was back up!!!! So, finally a couple of weeks ago we took the jet ski down and for shits and giggles right when we arrived in town I messaged the guy. We had an hour to kill before we could check into our AirBNB. The guy responds with yes you can come look at it call me. This was the first time in a year we got passed first base. Dude met us at Pollo Lucas and we followed back to his house. There she was!!! 1997 Seaswirl Striper 1730 CC with a 90 horse Evinrude. I climbed up into the boat to inspect. I knocked all over the transom and deck and it was solid. The boat mainly needed elbow grease. Elbow grease is my middle name. We said we were extremely interested and left it at that. A couple of days later when we were back in Phoenix Claudia told me that the only way we were getting this boat is if I sold the jet ski first. I pressure washed it Tuesday after work and waxed it Wednesday when I got home from work. I put the pictures and ad on Offerup at about 1030pm Wednesday night. I woke up to 10 messages and by about mid day Thursday it appeared that it was going to be sold after work. Guy and his wife met me at my place Thursday evening after work and liked what they saw and more importantly in any sales position, the couple liked me. The bought the ski. I was sad to see it go but my focus now turned into anxiety because I was only selling to bank roll this into the center console in RP. I immediately contacted the seller and told him that I sold the ski and now had cash in hand. He was going to be in RP for Memorial so I told him that I would be down Sunday morning to pick it up. Sure as shit, I left Phoenix at 6am, RP by 940am. He was still working off a hangover from the night before so he told me to give him 30 minutes... I went and had brunch at Manny's while waiting. 45 minutes later I was back at the guys house to pick up the boat. We bullshitted for a couple of hours and his wife made some really good ceviche from some Sierra Mackerel, had lunch and then hooked the boat up. Exchanged cash and I was on my way back to Phoenix with my first ever center console boat!!!! Got to the border and the agent goes, where's the rest of your crew?! I said, no crew I just drove down to buy this boat. Obviously that's a red flag!! LOL So like 3 guys hop into the boat and start looking into every nook and knocking on the hull in various places... No registration on the boat and only god knows what AZ plate was/is on the trailer but after their search dude told me, have a good day. I made it back to Phoenix by 6pm. I only got about 11 miles to the gallon towing.... Definitely not a light ass jet ski back there any longer LOL... I was still making passes with the boat though so... LOL
We can't wait to get her out on her maiden voyage but first I need to address some things that I've already seen that need to be done in a "correct" non Mexican manner. I mean that in the least racist way ever but you know how these Mexicans roll down there... Wires tied together and shit... None of the electronics are coming on so I have to see what is up there... All in all, the boat is running and in decent shape. After I get done with her she's going to be a head turner!!! So far the only thing I got done Monday was cleaning the inside of the boat with soap and pressure washing it. No wax yet and she's already looking pretty fricken good.
I'm going to create a list of things that we need to address and maybe a few of the pros here can help me out with a few things...
Here she is!!! Forum, meet boat. Boat meet forum.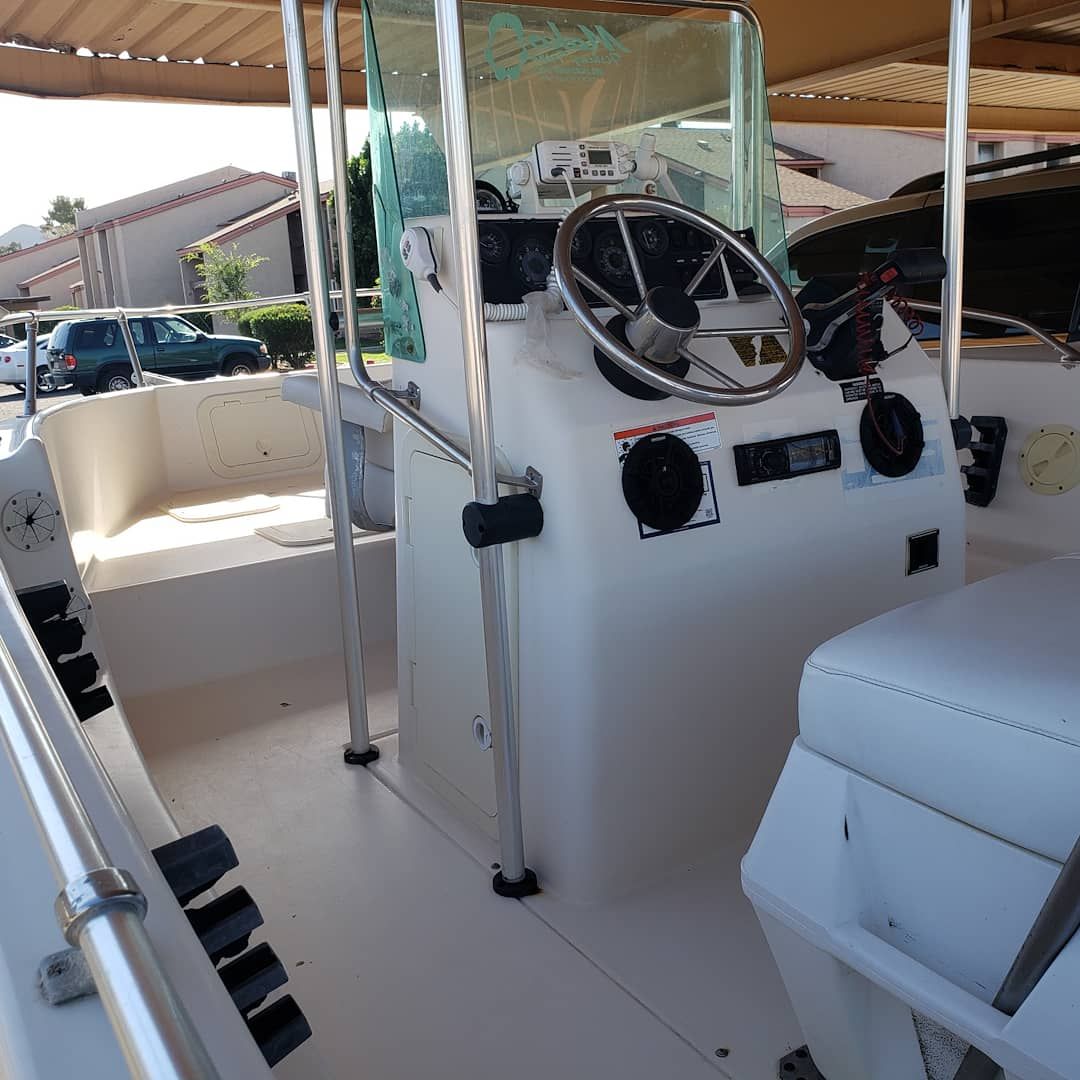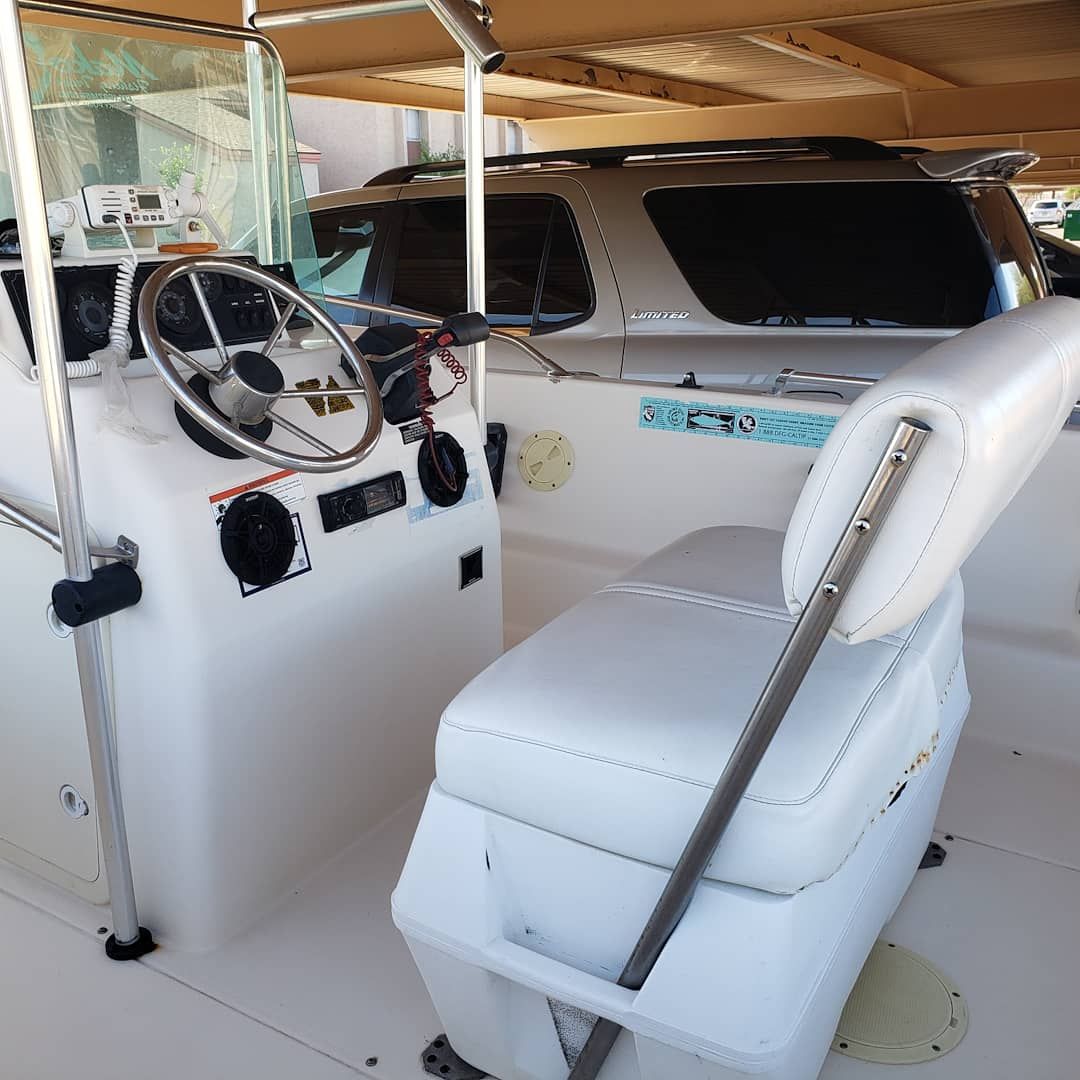 CHOLLA BAY 4 LIFE​